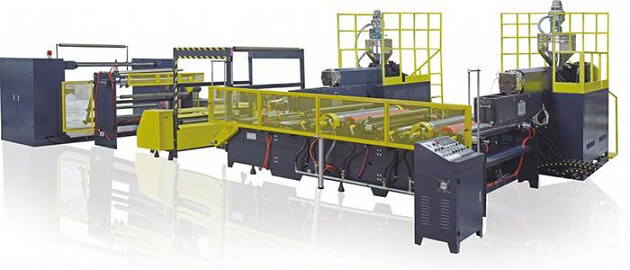 3 layer bubble film extruder primarily consists of a main extruding system, a secondary extruding system, a forming system, a winding system and an electric control system. Raw materials such as LDPE, LLDPE or recycled materials are first extruded by main extruding system at very high temperature to produce bubble films. Next these bubble films are added an additional PE film by the secondary extruding system. This machine comes with many selectable parts, such as in-line film edge trim winder, bubble film perforator, and hydraulic screen changer.

Application
3 layer bubble film is an impact-resistant, moisture-proof and shockproof chemical product suitable for packing, which is non-toxic, tasteless and has a very nice shock absorption ability, impact resistance, heat resistance, moisture resistance, corrosion resistance, transparency and so on. Bubble film can be used as packing material for mechanical parts and glasses. It can also be used in the swimming pool.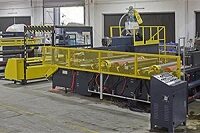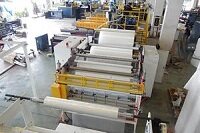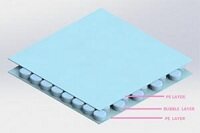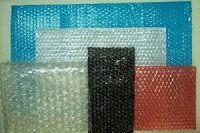 Features
1. Our air bubble film single screw extruder has very good production capacity, with the maximum speed of 50 meters per minute.
2. Out extruder has very good quality. Ztech's unique forming cylinder mold is designed with a vacuum system, with very special steel sheets to prevent wearing, and with a dual cooling system to realize a better and more uniform cooling effect. Ztech's unique T-die design is of vital importance to producing high quality bubble film. Precise T-die materials ensures that product is even in thickness, easy in operation and never leak glue. Ztech's screw design ensures that 100% recycled material is usable, that plastics melt fully to produce bubbles with better quality and even thickness.
3. Ztech's bubble film machines are very safe. Emergency stop button can stop the entire machine, including circuits, extruders and cylinder of roller. Protective barriers are installed on all important parts. All actions halt to prevent damage whenever these barriers are opened.
4. Our bubble film extrusion machine has very good compound effect. Up to date compound technologies ensure a very nice compound effect.
Technical Parameters
Model: ZT100-3S Air Bubble Film Single Screw Extruder
Layers
3
Raw materials
Low density polyethylene / linear low density polyethylene / recycled material
Maximum width (mm)
1030
Effective width(after trimming, mm)
1000
Speed(m/hr)
800m/hr-2000m/hr
Production capacity(kg/hr)
80kg/hr-120kg/hr
Range of film thickness (g/m2)
2 layers: 5g/sm-300g/sm
3 layers: 45g/sm-350g/sm
Main screw diameter(mm)
Φ65mm
Secondary screw diameter(mm)
Φ55mm
Screw length-diameter ratio
30 : 1
Temperature control region
22
Power of main motor(kw)
18.5
Power of secondary motor(kw)
11
Power of vacuum pump(kw)
1.5
Maximum winding diameter(mm)
Φ1000mm(Can be Customized upon requested)
Power supply(V)
380V,50HZ,3 PHASES(Can be customized according to different countries)
Total power(kW)
110
Heating power(kw)
75
Effective power(kw)
33
Weight(kg)
6200
Model: ZT120-3S Air Bubble Film Single Screw Extruder
Layers
3
Raw materials
Low density polyethylene / linear low density polyethylene / recycled material
Maximum width (mm)
1230
Effective width(after trimming, mm)
1200
Speed(m/hr)
800m/hr-2000m/hr
Production capacity(kg/hr)
95kg/hr-120kg/hr
Range of film thickness (g/m2)
2 layers: 25g/sm-300g/sm
3 layers: 45g/sm-350g/sm
Main screw diameter(mm)
Φ65mm
Secondary screw diameter(mm)
Φ55mm
Screw length-diameter ratio
30 : 1
Temperature control region
22
Power of main motor(kw)
18.5
Power of secondary motor(kw)
11
Power of vacuum pump(kw)
1.5
Maximum winding diameter(mm)
Φ1000mm(Can be Customized upon requested)
Power supply(V)
380V,50HZ,3 PHASES(Can be customized according to different countries)
Total power(kW)
114
Heating power(kw)
78
Effective power(kw)
35
Weight(kg)
7000
Model: ZT125-3S Air Bubble Film Single Screw Extruder
Layers
3
Raw materials
Low density polyethylene / linear low density polyethylene / recycled material
Maximum width (mm)
1280
Effective width(after trimming, mm)
1250
Speed(m/hr)
800m/hr-2000m/hr
Production capacity(kg/hr)
100kg/hr-120kg/hr
Range of film thickness (g/m2)
2 layers: 25g/sm-300g/sm
3 layers: 45g/sm-350g/sm
Main screw diameter(mm)
Φ65mm
Secondary screw diameter(mm)
Φ55mm
Screw length-diameter ratio
30 : 1
Temperature control region
22
Power of main motor(kw)
18.5
Power of secondary motor(kw)
11
Power of vacuum pump(kw)
1.5
Maximum winding diameter(mm)
Φ1000mm(Can be Customized upon requested)
Power supply(V)
380V,50HZ,3 PHASES(Can be customized according to different countries)
Total power(kW)
116
Heating power(kw)
79
Effective power(kw)
36
Weight(kg)
7200
Model: ZT150-3S Air Bubble Film Single Screw Extruder
Layers
3
Raw materials
Low density polyethylene / linear low density polyethylene / recycled material
Maximum width (mm)
1530
Effective width(after trimming, mm)
1500
Speed(m/hr)
800m/hr-2000m/hr
Production capacity(kg/hr)
115kg/hr-140kg/hr
Range of film thickness (g/m2)
2 layers: 25g/sm-300g/sm
3 layers: 45g/sm-350g/sm
Main screw diameter(mm)
Φ75mm
Secondary screw diameter(mm)
Φ55mm
Screw length-diameter ratio
30 : 1
Temperature control region
22
Power of main motor(kw)
22
Power of secondary motor(kw)
11
Power of vacuum pump(kw)
2.2
Maximum winding diameter(mm)
Φ1000mm(Can be Customized upon requested)
Power supply(V)
380V,50HZ,3 PHASES(Can be customized according to different countries)
Total power(kW)
137
Heating power(kw)
93
Effective power(kw)
42
Weight(kg)
7800
Model: ZT160-3S Air Bubble Film Single Screw Extruder
Layers
3
Raw materials
Low density polyethylene / linear low density polyethylene / recycled material
Maximum width (mm)
1630
Effective width(after trimming, mm)
1600
Speed(m/hr)
800m/hr-2000m/hr
Production capacity(kg/hr)
120kg/hr-140kg/hr
Range of film thickness (g/m2)
2 layers: 25g/sm-300g/sm;
3 layers: 45g/sm-350g/sm
Main screw diameter(mm)
Φ75mm
Secondary screw diameter(mm)
Φ55mm
Screw length-diameter ratio
30 : 1
Temperature control region
22
Power of main motor(kw)
22
Power of secondary motor(kw)
11
Power of vacuum pump(kw)
2.2
Maximum winding diameter(mm)
Φ1000mm(Can be Customized upon requested)
Power supply(V)
380V,50HZ,3 PHASES(Can be customized according to different countries)
Total power(kW)
139
Heating power(kw)
94
Effective power(kw)
43
Weight(kg)
8000
Model: ZT180-3S Air Bubble Film Single Screw Extruder
Layers
3
Raw materials
Low density polyethylene / linear low density polyethylene / recycled material
Maximum width (mm)
1830
Effective width(after trimming, mm)
1800
Speed(m/hr)
800m/hr-2000m/hr
Production capacity(kg/hr)
128kg/hr-160kg/hr
Range of film thickness (g/m2)
2 layers: 25g/sm-300g/sm
3 layers: 45g/sm-350g/sm
Main screw diameter(mm)
Φ85mm
Secondary screw diameter(mm)
Φ65mm
Screw length-diameter ratio
30 : 1
Temperature control region
24
Power of main motor(kw)
30
Power of secondary motor(kw)
18.5
Power of vacuum pump(kw)
2.2
Maximum winding diameter(mm)
Φ1000mm(Can be Customized upon requested)
Power supply(V)
380V,50HZ,3 PHASES(Can be customized according to different countries)
Total power(kW)
170
Heating power(kw)
112
Effective power(kw)
51
Weight(kg)
8900
Model: ZT200-3S Air Bubble Film Single Screw Extruder
Layers
3
Raw materials
Low density polyethylene / linear low density polyethylene / recycled material
Maximum width (mm)
2030
Effective width(after trimming, mm)
2000
Speed(m/hr)
800m/hr-2000m/hr
Production capacity(kg/hr)
140kg/hr-178kg/hr
Range of film thickness (g/m2)
2 layers: 25g/sm-300g/sm
3 layers: 45g/sm-350g/sm
Main screw diameter(mm)
Φ90mm
Secondary screw diameter(mm)
Φ65mm
Screw length-diameter ratio
30 : 1
Temperature control region
24
Power of main motor(kw)
37
Power of secondary motor(kw)
18.5
Power of vacuum pump(kw)
3
Maximum winding diameter(mm)
Φ1000mm(Can be Customized upon requested)
Power supply(V)
380V,50HZ,3 PHASES(Can be customized according to different countries)
Total power(kW)
180
Heating power(kw)
122
Effective power(kw)
54
Weight(kg)
9200
Model: ZT250-3S Air Bubble Film Single Screw Extruder
Layers
3
Raw materials
Low density polyethylene / linear low density polyethylene / recycled material
Maximum width (mm)
2530
Effective width(after trimming, mm)
2500
Speed(m/hr)
800m/hr-1500m/hr
Production capacity(kg/hr)
168kg/hr-228kg/hr
Range of film thickness (g/m2)
2 layers: 25g/sm-300g/sm
3 layers: 45g/sm-350g/sm
Main screw diameter(mm)
Φ110mm
Secondary screw diameter(mm)
Φ75mm
Screw length-diameter ratio
30 : 1
Temperature control region
28
Power of main motor(kw)
45
Power of secondary motor(kw)
22
Power of vacuum pump(kw)
2.2
Maximum winding diameter(mm)
Φ1000mm(Can be Customized upon requested)
Power supply(V)
380V,50HZ,3 PHASES(Can be customized according to different countries)
Total power(kW)
180
Heating power(kw)
226
Effective power(kw)
68
Weight(kg)
10800
Model: ZT300-3S Air Bubble Film Single Screw Extruder
Layers
3
Raw materials
Low density polyethylene / linear low density polyethylene / recycled material
Maximum width (mm)
3030
Effective width(after trimming, mm)
3000
Speed(m/hr)
800m/hr-1500m/hr
Production capacity(kg/hr)
190kg/hr-265kg/hr
Range of film thickness (g/m2)
2 layers: 25g/sm-300g/sm
3 layers: 45g/sm-350g/sm
Main screw diameter(mm)
Φ130mm
Secondary screw diameter(mm)
Φ80mm
Screw length-diameter ratio
30 : 1
Temperature control region
32
Power of main motor(kw)
55
Power of secondary motor(kw)
22
Power of vacuum pump(kw)
2.2
Maximum winding diameter(mm)
Φ1000mm(Can be Customized upon requested)
Power supply(V)
380V,50HZ,3 PHASES(Can be customized according to different countries)
Total power(kW)
260
Heating power(kw)
173
Effective power(kw)
78
Weight(kg)
11500