Air Bubble Film Twin Screw Extruder (2 Layer Bubble Film)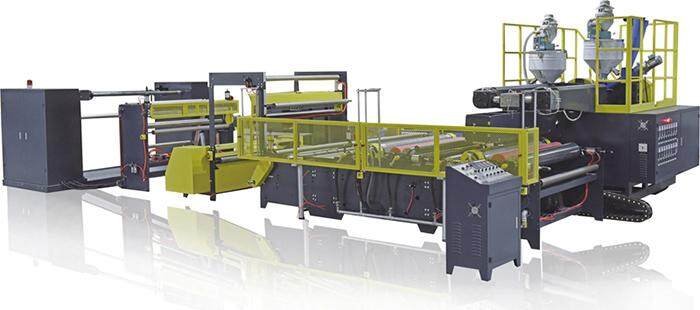 Description
Compared with single screw extruder, air bubble film twin screw extruder can separately control thickness of bubble layer and base layer, thus reducing material cost. It can also be used with different raw material formula to produce bubble films with different colors, giving the machine a more stable operation.
This air bubble film twin screw extruder comes with many selectable peripherals, such as in-line recycler unit, bubble film perforator and hydraulic screen changer.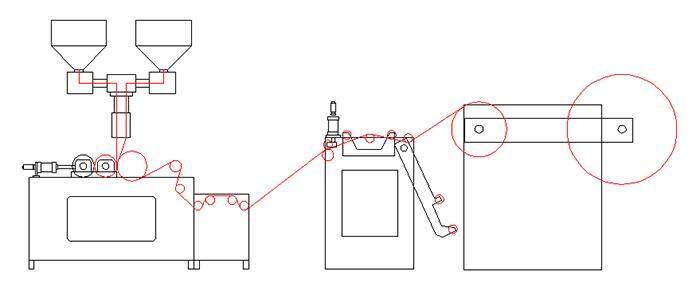 Application
2 layer bubble film is an excellent packing material because of its low cost nature and because its floppy bubble acts as a shockproof buffer to make sure that customers can get intact products and to prevent unnecessary loss. It is widely used in countless products including machine part, electric part, cosmetics, radiator and artistic sculptures.

Features
1. Compared to single screw extruder, twin screw extruder makes it possible to control the thickness of bubble layer and base layer separately thus reducing material cost
2. Forming cylinder mold is designed with a vacuum system, special steel sheets to prevent wearing and dual pipe cooling system to produce a better and more uniform cooling effect.
3. T-die designed with precise material makes products even in thickness, provides an easy operation flow and makes sure that glue leakage never happens
4. Our unique screw design can be used to recycle material 100%. It makes sure plastics melts fully, thus providing better bubbles with more uniform thickness.
5. Our product comes with a strict safety system. Emergency stop button can stop the entire machine, including circuits, extruder and cylinder of roller.
All important parts are equipped with a protective barrier, whenever the protective barrier is opened, all actions halt to prevent damage to workers.
Technical Parameters
Model:
ZT100-2T Air Bubble Film Twin Screw Extruder
| | |
| --- | --- |
| Layer | 2 |
| Raw Material | Low density polyethylene / linear low density polyethylene / recycled material |
| Maximum width (mm) | 1030 |
| Effective width after trimming (mm) | 1000 |
| Speed (meters per hour) | 800m/hr-2000m/hr |
| Production capacity (kg/hr) | 54-132 |
| Range of film thickness (g/m2) | 25-300 |
| Screw diameter (mm) | Φ55mm/Φ55mm |
| Screw length diameter ratio | 30:1 |
| Temperature Control Region | 16 |
| Power of main motor | 11KW+11KW |
| Power of vacuum pump | 1.5KW |
| Maximum rewinding diameter | 1000mm (Can be customized upon requested) |
| Power supply(volt) | 380V,50HZ,3 PHASES (Can be customized for different countries) |
| Total Power (KW) | 82 |
| Heating Power (KW) | 58 |
| Effective Power (KW) | 25 |
| Weight(kg) | 6000 |
Model:
ZT120-2T Air Bubble Film Twin Screw Extruder
| | |
| --- | --- |
| Layer | 2 |
| Raw Material | Low density polyethylene / linear low density polyethylene / recycled material |
| Maximum width (mm) | 1230 |
| Effective width (mm) | 1200 |
| Speed (m/hr) | 800-2000 |
| Production Capacity (kg/hr) | 65-132 |
| Range of film thickness (g/m2) | 25-300 |
| Screw diameter (mm) | 55-55 |
| Screw length diameter ratio | 30 : 1 |
| Temperature Control Region | 16 |
| Power of main motor | 11KW+11KW |
| Power of vacuum pump | 1.5KW |
| Maximum rewinding diameter | 1000mm (Can be customized upon requested) |
| Power supply(volt) | 380V,50HZ,3 PHASES (Can be customized for different countries) |
| Total Power (KW) | 84 |
| Heating Power (KW) | 60 |
| Effective Power(KW) | 26 |
| Weight(kg) | 6800 |
Model:
ZT125-2T Air Bubble Film Twin Screw Extruder
| | |
| --- | --- |
| Layer | 2 |
| Raw Material | Low density polyethylene / linear low density polyethylene / recycled material |
| Maximum width (mm) | 1280 |
| Effective width (mm) | 1250 |
| Speed (m/hr) | 800-2000 |
| Production Capacity (kg/hr) | 68-132 |
| Range of film thickness (g/m2) | 25-300 |
| Screw diameter (mm) | 55-55 |
| Screw length diameter ratio | 30 : 1 |
| Temperature Control Region | 16 |
| Power of main motor | 11KW+11KW |
| Power of vacuum pump | 1.5KW |
| Maximum rewinding diameter | 1000mm (Can be customized upon requested) |
| Power supply(volt) | 380V,50HZ,3 PHASES (Can be customized for different countries) |
| Total Power (KW) | 86 |
| Heating Power (KW) | 64 |
| Effective Power(KW) | 28 |
| Weight(kg) | 7000 |
Model:
ZT150-2T Air Bubble Film Twin Screw Extruder
| | |
| --- | --- |
| Layer | 2 |
| Raw Material | Low density polyethylene / linear low density polyethylene / recycled material |
| Maximum width (mm) | 1530 |
| Effective width (mm) | 1500 |
| Speed (m/hr) | 800-2000 |
| Production Capacity (kg) | 84-155 |
| Range of film thickness (g/m2) | 25-300 |
| Screw diameter (mm) | 65-65 |
| Screw length diameter ratio | 30 : 1 |
| Temperature Control Region | 16 |
| Power of main motor | 18.5KW+18.5KW |
| Power of vacuum pump | 2.2KW |
| Maximum rewinding diameter | 1000mm (Can be customized upon requested) |
| Power supply (volt) | 380V,50HZ,3 PHASES (Can be customized for different countries) |
| Total Power (KW) | 118 |
| Heating Power (KW) | 78 |
| Effective Power (KW) | 35 |
| Weight(kg) | 7600 |
Model:
ZT160-2T Air Bubble Film Twin Screw Extruder
| | |
| --- | --- |
| Layer | 2 |
| Raw Material | Low density polyethylene / linear low density polyethylene / recycled material |
| Maximum width (mm) | 1630 |
| Effective width (mm) | 1600 |
| Speed (m/hr) | 800-2000 |
| Production Capacity (kg) | 88-155 |
| Range of film thickness (g/m2) | 25-300 |
| Screw diameter (mm) | 65-65 |
| Screw length diameter ratio | 30 : 1 |
| Temperature Control Region | 16 |
| Power of main motor | 18.5KW+18.5KW |
| Power of vacuum pump | 2.2KW |
| Maximum rewinding diameter | 1000mm (Can be customized upon requested) |
| Power supply (volt) | 380V,50HZ,3 PHASES (Can be customized for different countries) |
| Total Power (KW) | 123 |
| Heating Power (KW) | 80 |
| Effective Power (KW) | 36 |
| Weight (kg) | 7800 |
Model:
ZT180-2T Air Bubble Film Twin Screw Extruder
| | |
| --- | --- |
| Layer | 2 |
| Raw Material | Low density polyethylene / linear low density polyethylene / recycled material |
| Maximum width (mm) | 1830 |
| Effective width (mm) | 1800 |
| Speed (m/hr) | 800-2000 |
| Production Capacity (kg) | 90-160 |
| Range of film thickness (g/m2) | 25-300 |
| Screw diameter (mm) | 65-65 |
| Screw length diameter ratio | 30 : 1 |
| Temperature Control Region | 16 |
| Power of main motor | 18.5KW+18.5KW |
| Power of vacuum pump | 2.2KW |
| Maximum rewinding diameter | 1000mm (Can be customized upon requested) |
| Power supply (volt) | 380V,50HZ,3 PHASES (Can be customized for different countries) |
| Total Power (KW) | 126 |
| Heating Power (KW) | 83 |
| Effective Power(KW) | 38 |
| Weight(kg) | 8600 |
Model:
ZT200-2T Air Bubble Film Twin Screw Extruder
| | |
| --- | --- |
| Layer | 2 |
| Raw Material | Low density polyethylene / linear low density polyethylene / recycled material |
| Maximum width (mm) | 2030 |
| Effective width (mm) | 2000 |
| Speed (m/hr) | 800-2000 |
| Production Capacity (kg) | 103-178 |
| Range of film thickness (g/m2) | 25-300 |
| Screw diameter (mm) | 75-75 |
| Screw length diameter ratio | 30 : 1 |
| Temperature Control Region | 16 |
| Power of main motor | 22KW+22KW |
| Power of vacuum pump | 3KW |
| Maximum rewinding diameter | 1000mm (Can be customized upon requested) |
| Power supply(volt) | 380V,50HZ,3 PHASES (Can be customized for different countries) |
| Total Power (KW) | 150 |
| Heating Power (KW) | 98 |
| Effective Power(KW) | 45 |
| Weight(kg) | 8800 |
Model:
ZT250-2T Air Bubble Film Twin Screw Extruder
| | |
| --- | --- |
| Layer | 2 |
| Raw Material | Low density polyethylene / linear low density polyethylene / recycled material |
| Maximum width (mm) | 2530 |
| Effective width (mm) | 2500 |
| Speed (m/hr) | 800-1500 |
| Production Capacity (kg) | 102-173 |
| Range of film thickness (g/m2) | 30-300 |
| Screw diameter (mm) | 80-80 |
| Screw length diameter ratio | 30 : 1 |
| Temperature Control Region | 18 |
| Power of main motor | 22KW+22KW |
| Power of vacuum pump | 2.2.KW |
| Maximum rewinding diameter | 1000mm (Can be customized upon requested) |
| Power supply(volt) | 380V,50HZ,3 PHASES (Can be customized for different countries) |
| Total Power (KW) | 160 |
| Heating Power (KW) | 108 |
| Effective Power(KW) | 48 |
| Weight(kg) | 9900 |
Model:
ZT300-2T Air Bubble Film Twin Screw Extruder
| | |
| --- | --- |
| Layer | 2 |
| Raw Material | Low density polyethylene / linear low density polyethylene / recycled material |
| Maximum width (mm) | 3030 |
| Effective width (mm) | 3000 |
| Speed (m/hr) | 800-1500 |
| Production Capacity(kg) | 135-22 |
| Range of film thickness (g/m2) | 30-300 |
| Screw diameter (mm) | 90-90 |
| Screw length diameter ratio | 30 :1 |
| Temperature Control Region | 20 |
| Power of main motor | 37KW+37KW |
| Power of vacuum pump | 2.2.KW |
| Maximum rewinding diameter | 1000mm (Can be customized upon requested) |
| Power supply(volt) | 380V,50HZ,3 PHASES (Can be customized for different countries) |
| Total Power (KW) | 196 |
| Heating Power (KW) | 127 |
| Effective Power(KW) | 58 |
| Weight(kg) | 10200 |