Air Bubble Film Twin Screw Extruder (7 Layer Aluminum Foil Laminated Bubble Film)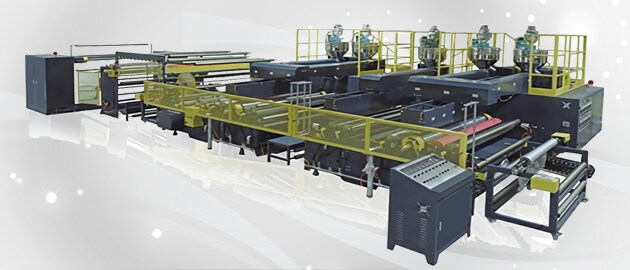 Description
7 layer bubble film extruder is primarily comprised of a number 1 main extruder, a secondary extruder, a number 2 main extruder, a forming system, an aluminum composite film lamination rack, a winder and an electronic control system. Primarily, 2 sets of main extruders with twin screws and 1 set of secondary extruder with single screw produce 5 layer bubble films, in the meantime, composite materials such as aluminum foil, Kraft paper, and EPE foam can also be added. Compared to single screw extruder machines, twin screw extruder machines makes it possible to control the thickness of bubble layer and base layer separately thus having a better composite effect.

Application
7 layer double aluminum foil laminated bubble film, because of its thermal insulation ability, is widely used in many industries including construction industry, luggage industry, refrigeration industry and packaging industry. It can be used as construction material for roads, airfield runaways, culverts and bridges as impact resistant and expansion-proof material. It can also be installed on roofs, walls and floors to block up to 80% of heat exchange between the building and environment. In this way, it can protect walls, hold temperature so that it does not drop rapidly. An additional protection layer better prevents heat from escaping, thus realizing a better thermal insulation effect.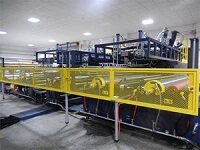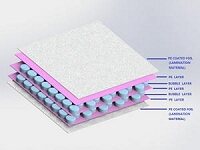 Features
1. This bubble film machine has very high production capacity, with a maximum speed of 50 meters per minute.
2. This bubble film extruder has very good quality. Ztech's forming cylinder mold is designed with an up-to-date vacuum system, with special steel sheets to prevent wearing, and with a dual pipe cooling system to realize better and more even cooling effect. Ztech's unique T-die design is of vital importance to producing high quality bubble films. Precise T-die materials makes products even in thickness, realizing an easier operation flow and prevents glue leakage. Ztech's screw design makes recycled materials 100% usable, ensuring that bubble are even in thickness and better in quality.
3. The air bubble film machine comes with a strict safety system. Emergency stop button can stop the entire machine, including circuits, extruders and cylinder of roller. Protective barriers are installed on all important parts, all actions halt automatically to prevent damage whenever protective barriers are opened.
4. This extruder has very good composite effect. Up-to-date technology ensures that its composite effect stands out.

Technical Parameters
Model:
ZT100-7T Air Bubble Film Twin Screw Extruder
Layers
7
Raw Material
Low density polyethylene / linear low density polyethylene / recycled material
Maximum width (mm)
1030
Effective width (after edge timming, mm)
1000
Speed (meters per hour)
800-1800
Production Capacity (kg/hr)
125-200
Range of film thickness (g/m2)
2 layers: 25g/sm-300g/sm
3 layers: 45g/sm-350g/sm
Front Screw diameter (mm)
Φ55mm+Φ55mm
Secondary screw diameter (mm)
Φ55mm
Back main screw diameter (mm)
Φ55mm+Φ55mm
Screw length diameter ratio
30:1
Temperature Control Region
43
Power of front main motor(kW)
11KW+11KW
Power of secondary motor(kW)
11
Power of back main motor(kW)
11KW+11KW
Power of vacuum pump
1.5KW
Aluminum composite film lamination rack
2 sets of standard aluminum composite film lamination rack with maximum material diameter of Φ400mm;
Composite materials
aluminum foil, film laminating kraft paper, EPE foam, PE film, etc.
Selectiable parts
pneumatic shaft and magnetic particle tension controller
Maximum winding diameter
Φ1000mm (Can be customized upon requested)
Power supply(volt)
380V,50HZ,3 PHASES (Can be customized for different countries)
Total Power (KW)
202
Heating Power (KW)
131
Effective Power(KW)
61
Weight(kg)
13700
Model:
ZT120-7T Air Bubble Film Twin Screw Extruder
Layers
7
Raw Material
Low density polyethylene / linear low density polyethylene / recycled material
Maximum width (mm)
1230
Effective width (after edge timming, mm)
1200
Speed (meters per hour)
800m/hr-1800m/hr
Production Capacity (kg/hr)
135kg/hr-200kg/hr
Range of film thickness (g/m2)
2 layers: 25g/sm-300g/sm
3 layers: 45g/sm-350g/sm
5 layers: 75g/sm-500g/sm
Front Screw diameter (mm)
Φ55mm+Φ55mm
Power of secondary motor(kW)
Φ55mm
Back Screw diameter (mm)
Φ55mm+Φ55mm
Screw length diameter ratio
30:1
Temperature Control Region
43
Power of front main motor(kW)
11KW+11KW
Power of secondary motor(kW)
11
Power of back main motor(kW)
11KW+11KW
Power of vacuum pump
1.5/1.5
Aluminum composite film lamination rack
2 sets of standard aluminum composite film lamination rack with maximum material diameter of Φ400mm;
Composite materials
aluminum foil, film laminating kraft paper, EPE foam, PE film, etc.
Selectable parts
pneumatic shaft and magnetic particle tension controller
Maximum winding diameter
Φ1000mm (Can be customized upon requested)
Power Supply
380V,50HZ,3 PHASES(Can be customized for different countries)
Total Power (KW)
210
Heating Power (KW)
136
Effective Power(KW)
63
Weight(kg)
14500
Model:
ZT125-7T Air Bubble Film Twin Screw Extruder
Layers
7
Raw Material
Low density polyethylene / linear low density polyethylene / recycled material
Maximum width (mm)
1280
Effective width (after edge timming, mm)
1250
Speed (meters per hour)
800m/hr-1800m/hr
Production Capacity (kg/hr)
140kg/hr-200kg/hr
Range of film thickness (g/m2)
2 layers: 25g/sm-300g/sm
3 layers: 45g/sm-350g/sm
5 layers: 75g/sm-500g/sm
Front Screw diameter (mm)
Φ55mm+Φ55mm
Power of secondary motor(kW)
Φ55mm
Back Screw diameter (mm)
Φ55mm+Φ55mm
Screw length-diameter ratio
30:1
Temperature control region
43
Power of front main motor(KW)
11KW+11KW
Power of secondary motor(KW)
11
Power of back main motor(kW)
11KW+11KW
Power of vacuum pump
1.5/1.5
Aluminum composite film lamination rack
2 sets of standard aluminum composite film lamination rack with maximum material diameter of Φ400mm;
Composite materials
aluminum foil, film laminating kraft paper, EPE foam, PE film, etc.
Selectable parts
pneumatic shaft and magnetic particle tension controller
Maximum winding diameter
Φ1000mm (Can be customized upon requested)
Power Supply
380V,50HZ,3 PHASES(Can be customized for different countries)
Total Power (KW)
212
Heating Power (KW)
137
Effective Power(KW)
65
Weight(kg)
15000
Model:
ZT150-7T Air Bubble Film Twin Screw Extruder
Layers
7
Raw Material
Low density polyethylene / linear low density polyethylene / recycled material
Maximum width (mm)
1530
Effective width (after edge timming, mm)
1500
Speed (meters per hour)
800m/hr-1800m/hr
Production Capacity (kg/hr)
180kg/hr-280kg/hr
Range of film thickness (g/m2)
2 layers: 25g/sm-300g/sm
3 layers: 45g/sm-350g/sm
5 layers: 75g/sm-500g/sm
Front Screw diameter (mm)
Φ65mm+Φ65mm
Power of secondary motor(kW)
Φ55mm
Back Screw diameter (mm)
Φ65mm+Φ65mm
Screw length-diameter ratio
30:1
Temperature control region
43
Power of front main motor(KW)
18.5KW+18.5KW
Power of secondary motor(KW)
11
Power of back main motor(kW)
18.5KW+18.5KW
Power of vacuum pump
2.2/2.2
Aluminum composite film lamination rack
2 sets of standard aluminum composite film lamination rack with maximum material diameter of Φ400mm;
Composite materials
aluminum foil, film laminating kraft paper, EPE foam, PE film, etc.
Selectable parts
pneumatic shaft and magnetic particle tension controller
Maximum winding diameter
Φ1000mm (Can be customized upon requested)
Power Supply
380V,50HZ,3 PHASES(Can be customized for different countries)
Total Power (KW)
298
Heating Power (KW)
180
Effective Power(KW)
90
Weight(kg)
15900
Model:
ZT160-7T Air Bubble Film Twin Screw Extruder
Layers
7
Raw Material
Low density polyethylene / linear low density polyethylene / recycled material
Maximum width (mm)
1630
Effective width (after edge timming, mm)
1600
Speed (meters per hour)
800m/hr-1800m/hr
Production Capacity (kg/hr)
185kg/hr-280kg/hr
Range of film thickness (g/m2)
2 layers: 25g/sm-300g/sm
3 layers: 45g/sm-350g/sm
5 layers: 75g/sm-500g/sm
Front Screw diameter (mm)
Φ65mm+Φ65mm
Power of secondary motor(kW)
Φ55mm
Back Screw diameter (mm)
Φ65mm+Φ65mm
Screw length-diameter ratio
30:1
Temperature control region
43
Power of front main motor(KW)
18.5KW+18.5KW
Power of secondary motor(KW)
11
Power of back main motor(kW)
18.5KW+18.5KW
Power of vacuum pump
2.2/2.2
Aluminum composite film lamination rack
2 sets of standard aluminum composite film lamination rack with maximum material diameter of Φ400mm;
Composite materials
aluminum foil, film laminating kraft paper, EPE foam, PE film, etc.
Selectable parts
pneumatic shaft and magnetic particle tension controller
Maximum winding diameter
Φ1000mm (Can be customized upon requested)
Power Supply
380V,50HZ,3 PHASES(Can be customized for different countries)
Total Power (KW)
303
Heating Power (KW)
185
Effective Power(KW)
92
Weight(kg)
16200
Model:
ZT180-7T Air Bubble Film Twin Screw Extruder
Layers
7
Raw Material
Low density polyethylene / linear low density polyethylene / recycled material
Maximum width (mm)
1830
Effective width (after edge timming, mm)
1800
Speed (meters per hour)
800m/hr-1800m/hr
Production Capacity (kg/hr)
208kg/hr-345kg/hr
Range of film thickness (g/m2)
2 layers: 25g/sm-300g/sm
3 layers: 45g/sm-350g/sm
5 layers: 75g/sm-500g/sm
Front Screw diameter (mm)
Φ65mm+Φ65mm
Power of secondary motor(kW)
Φ65mm
Back Screw diameter (mm)
Φ65mm+Φ65mm
Screw length-diameter ratio
30:1
Temperature control region
44
Power of front main motor(KW)
18.5KW+18.5KW
Power of secondary motor(KW)
18.5
Power of back main motor(kW)
18.5KW+18.5KW
Power of vacuum pump
2.2/2.2
Aluminum composite film lamination rack
2 sets of standard aluminum composite film lamination rack with maximum material diameter of Φ400mm;
Composite materials
aluminum foil, film laminating kraft paper, EPE foam, PE film, etc.
Selectable parts
pneumatic shaft and magnetic particle tension controller
Maximum winding diameter
Φ1000mm (Can be customized upon requested)
Power Supply
380V,50HZ,3 PHASES(Can be customized for different countries)
Total Power (KW)
308
Heating Power (KW)
198
Effective Power(KW)
93
Weight(kg)
18000
Model:
ZT200-7T Air Bubble Film Twin Screw Extruder
Layers
7
Raw Material
Low density polyethylene / linear low density polyethylene / recycled material
Maximum width (mm)
2030
Effective width (after edge timming, mm)
2000
Speed (meters per hour)
800m/hr-1800m/hr
Production Capacity (kg/hr)
220kg/hr-375kg/hr
Range of film thickness (g/m2)
2 layers: 25g/sm-300g/sm
3 layers: 45g/sm-350g/sm
5 layers: 75g/sm-500g/sm
Front Screw diameter (mm)
Φ75mm+Φ75mm
Power of secondary motor(kW)
Φ65mm
Back Screw diameter (mm)
Φ75mm+Φ75mm
Screw length-diameter ratio
30:1
Temperature control region
44
Power of front main motor(KW)
22KW+22KW
Power of secondary motor(KW)
18.5
Power of back main motor(kW)
22KW+22KW
Power of vacuum pump
3.0/3.0
Aluminum composite film lamination rack
2 sets of standard aluminum composite film lamination rack with maximum material diameter of Φ400mm;
Composite materials
aluminum foil, film laminating kraft paper, EPE foam, PE film, etc.
Selectable parts
pneumatic shaft and magnetic particle tension controller
Maximum winding diameter
Φ1000mm (Can be customized upon requested)
Power Supply
380V,50HZ,3 PHASES(Can be customized for different countries)
Total Power (KW)
379
Heating Power (KW)
235
Effective Power(KW)
113
Weight(kg)
18500
Model:
ZT250-7T Air Bubble Film Twin Screw Extruder
Layers
7
Raw Material
Low density polyethylene / linear low density polyethylene / recycled material
Maximum width (mm)
2530
Effective width (after edge trimming, mm)
2500
Speed (meters per hour)
800m/hr-1350m/hr
Production Capacity (kg/hr)
290kg/hr-460kg/hr
Range of film thickness (g/m2)
2 layers: 30g/sm-300g/sm
3 layers: 45g/sm-350g/sm
5 layers: 75g/sm-500g/sm
Front Screw diameter (mm)
Φ80mm+Φ80mm
Power of secondary motor(kW)
Φ75mm
Back Screw diameter (mm)
Φ80mm+Φ80mm
Screw length-diameter ratio
30:1
Temperature control region
46
Power of front main motor(KW)
22KW+22KW
Power of secondary motor(KW)
22
Power of back main motor(kW)
22KW+22KW
Power of vacuum pump
2.2/2.2/2.2/2.2
Aluminum composite film lamination rack
2 sets of standard aluminum composite film lamination rack with maximum material diameter of Φ400mm;
Composite materials
aluminum foil, film laminating kraft paper, EPE foam, PE film, etc.
Selectable parts
pneumatic shaft and magnetic particle tension controller
Maximum winding diameter
Φ1000mm (Can be customized upon requested)
Power Supply
380V,50HZ,3 PHASES(Can be customized for different countries)
Total Power (KW)
396
Heating Power (KW)
259
Effective Power(KW)
119
Weight(kg)
20800
Model:
ZT300-7T Air Bubble Film Twin Screw Extruder
Layers
7
Raw Material
Low density polyethylene / linear low density polyethylene / recycled material
Maximum width (mm)
3030
Effective width (after edge timming, mm)
3000
Speed (meters per hour)
800m/hr-1350m/hr
Production Capacity (kg/hr)
330kg/hr-550kg/hr
Range of film thickness (g/m2)
2 layers: 30g/sm-300g/sm
3 layers: 45g/sm-350g/sm
5 layers: 75g/sm-500g/sm
Front Screw diameter (mm)
Φ90mm+Φ90mm
Power of secondary motor(kW)
Φ80mm
Back Screw diameter (mm)
Φ90mm+Φ90mm
Screw length-diameter ratio
30:1
Temperature control region
48
Power of front main motor(KW)
37KW+37KW
Power of secondary motor(KW)
22
Power of back main motor(kW)
37KW+37KW
Power of vacuum pump
2.2/2.2/2.2/2.2
Aluminum composite film lamination rack
2 sets of standard aluminum composite film lamination rack with maximum material diameter of Φ400mm;
Composite materials
aluminum foil, film laminating kraft paper, EPE foam, PE film, etc.
Selectable parts
pneumatic shaft and magnetic particle tension controller
Maximum winding diameter
Φ1000mm (Can be customized upon requested)
Power Supply
380V,50HZ,3 PHASES(Can be customized for different countries)
Total Power (KW)
470
Heating Power (KW)
309
Effective Power(KW)
140
Weight(kg)
21800